Linda Coogan Byrne:  Company founder and MD. Senior Publicist & Project Manager (Uk & Ireland)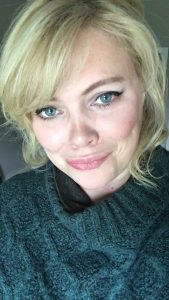 Linda Coogan Byrne is the founder and owner of one of Ireland's most well-known and established Music Pr Company's: Good Seed PR. Linda formed the company to give acts and label's the chance to break new music and also give well-known acts a bigger push with a more sincere genuine approach. Being a musician herself when she started the company allowed her to have a vantage viewpoint and natural understanding of a band's needs. She also plays a myriad of instruments herself and used to make them!
With a validated & well known track record of placing her clients on Ireland's Top rated TV and radio shows and in National Publications (as well as the all too important Regional publications & radio stations), Linda firmly believes in being highly productive and is extremely results driven. Delivering integrated campaigns, within various platforms, allows her to connect with a target audience on her client's behalf. She takes on board the visions of others and especially tries to keep informed of new technologies sweeping the online market; so as to not miss out any opportunities for her clients and to ensure she is always up to speed. Good Seed PR were the first Music PR company in Ireland to embrace and use Twitter & Facebook to cross-promote their clients. 'Always on the ball' as they say in Ireland!
Being a pragmatic PR agent with extensive experience across a broad range of areas within the industry, comes as a result of having worked in and studying: Music retail, Music technology, Musical Instrument construction (where she studied as a Luthier designing and constructing Harps and stringed renaissance instruments – she can even play over 11 instruments herself), Online Marketing, Event & Talent management, Event promotion, PR & Marketing.
Being the company director puts Linda in charge of the day-to-day business affairs of GOOD SEED PR in both the UK & Ireland. She co-ordinates and project manages all campaigns with artists, bands, labels and management. She also works as an agent for various Music Supervisors around the world and pitches music for ad/film placement. Linda believes in going the distance for every band/client/label and will only work with acts and labels she believes in. Linda has worked with high profile international Indie and Major Labels bands and acts such as Amanda Palmer, Joss Stone, Alison Moyet, Duran Duran, REM, The Prodigy, Groove Armada, Underworld and more. Where her passion lies is working with new bands starting out and guiding them on how to establish themselves and create a buzz around their music.
Linda also worked for Pure Sync Inc, acting as the Irish imprint. Working with them in Ireland on the Newstalk Radio station campaign 'Move The Dial' which was broadly successful. Pure Sync Inc is a forward-thinking music synchronisation agency & music publishing company. With over a decade of experience, the Pure Sync team delivers a time efficient and cost effective turn key creative music solution for Advertising Agencies (Brey Leino, BIG, M&C Saatchi, Mother, Mc Caan etc.) TV, Film & Gaming production companies (Endemol, Thumbs Up, Fulwell73, Metrodome, Monkey etc.), around the world. Previous clients include IKEA, ITV, AXA, ESPN, Volkswagen, BBC, Dominos Pizza, O2, Land Rover, Lexus and many more leading brands and companies.
In her spare time: Linda tends to read comic books and indulge in a bit of art. You can check out her work here. She also contributes to various art, music and food blogs and magazines. She Just qualified as a Nutritional Therapist, with plant based protein at the forefront along with a broad understanding of Food Science and Epigenetics. She even has her own Vegan Health Food Blog DailyVeganLife and is the official Vegan writer for Ireland's most well-known Global Award Winning Food Website TheTaste. She has been interviewed herself in International, National and Regional newspapers, magazines and e-zines, talking about her work ethos, music and healthy living. She regularly gives lectures in various Colleges and Universities that focus on young entrepreneurs and women in business.
Hobbies; Playing and listening to music. Cooking. Food Blogging and learning about Nutrition and how to be environmentally friendly. Drawing and painting. Reading and generally being nerdy whilst maintaining an air of cool.
If Linda was stuck on a Desert Island: her must have items would be: her Ukulele and a Banana because everyone knows Bananas stay in your system for a few days and are a slow digestion carb.
Kevin Murray – Radio, Press and Online Plugger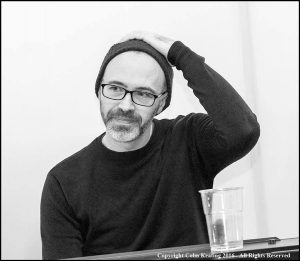 Kevin Murray has been involved in events, the arts and the music industry for over 20 years. He began when he was 16, organising local concerts for his and his friends bands.  With a blossoming love of music and the arts he went on to study music in Derry and then followed that with 2 more years in Glasgow gaining a HND in Audio Production.  The years following he was consistently involved in small-scale events. Working with venues and artists to host a variety of single or album launches or charity events.
After gaining an abundance of experience in small-scale events, in 2011 Ryan Sheridan asked him to join his team. Over 4 years he worked with Ryan touring Europe several times, supporting Rea Garvey and with Ryan's own headline tour. On these tours he gained invaluable experience working with managers, artists and agents.
In 2014 he decided to return to college and enrolled in BIMM Dublin. Basing himself in Dublin allowed him to start his own musical project and he formed Pine the Pilcrow. Since forming in 2015 he has put his industry knowledge to work and Pine the Pilcrow have toured Ireland extensively at a variety of arts festivals, support shows and headline shows, playing 4 stages at Electric Picnic in 2016. Through networking and producing high quality work they have been covered in many of Irelands leading publications such as The Irish Times and Hotpress, while also been covered regularly by Irelands leading blogs Nialler9 and The Last Mixed Tape as well as working with radio stations such as BBC NI, RTE Radio, Dublin City FM, Near FM, 8 Radio, KLCR to name a few.
Working on his own project on top of event management and tour management has given Kevin a full scope of what's needed to organise and promote events and releases from the bottom up. Like Linda, Kevin's background in music and being in a band lends an inside understanding to the client.
Hobbies:  All things music! writing, listening, watching, judging! I like to cook too and chill out with a good book or a Netflix series.
If Kevin was stuck on a desert Island his must have items would be…If i was stuck on a desert island my must have item would be a grand piano but only if the transport was being paid for by whoever is dropping me off! If I'm paying the transport costs id bring a harmonica! 🙂
Danny Wilson – Digital Marketing, Social Media Manager & Senior Publicist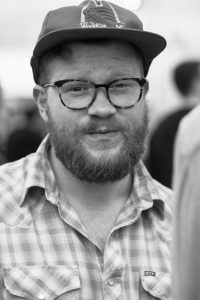 Danny Wilson is a journalist, copywriter and social media manager born and reared in Dublin. His obsession with music became apparent at an early age as he religiously tuned into pirate radio stations on his daily commute into primary school and voraciously consumed any and all music, skateboarding and arts journalism he could get his hands on. Following an adolescence soundtracked by a C.D case stuffed with The Smith's catalogue, Danny enrolled in and completed an honours degree in Philosophy and Classical Civilisation in University College Dublin.
Towards the end of his university career Danny began writing more seriously. Regularly reviewing records, interviewing artists and dissecting pop culture minutiae for various local publications. Over the years Danny has penned a number of pieces for the like of Hot Press, This Greedy Pig and, most regularly, Totally Dublin where he still serves as music editor.
Of late, Danny has been engaging with the world of Social Media and Marketing representation for some of the country's most venerated arts institutions including Body&Soul Event Creations Ltd, The Irish Museum of Modern Art and Gate Theatre Dublin. Danny works on developing upcoming Talent fresh on the scene in Ireland.
Hobbies: My music consumption has failed to slow. I still wile away the hours discovering and immersing myself in genres and artists I'd previously been unaware of – the the thrill of the new has yet to dissipate. From post-punk to krautrock to the forgotten psychedelic and experimental acts of 1970s Venezuela – I'm more than happy to wax lyrical (likely to a wholly uninterested audience) on the merits of acts from widely disparate realms of the music world. I'm also a film nerd of some repute. Most evening's you'll find me settling in and watching a flick of one sort or the other. Paranoid thriller, Giallo Horror or meditative drama – They all get their fair shake.
If Danny was stuck on a desert Island his must have items would be… Is it a cop out just to say my Laptop? Even if the Desert Island's wifi leaves a little something to be desired, I've still got a slew of established cinematic greats catalogued and waiting to go on my hard drive. Sometimes after a day's work it can be hard to muster up the emotional energy to dive into a black and white classic of mid-century European art cinema. A Desert Island might just afford me the free time to finally get to those Bergman flicks I'm forever putting on the long finger. So, let's say my laptop and maybe the entire Can back catalogue to keep me occupied on the music front. By the time the rescue boat finally arrives, I'll have stroked my chin down to a nub!
Mike McGrath-Bryan – Events PR & Tour Promotion.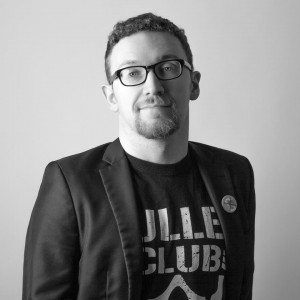 Hailing from the fields of North Cork and settling in the city, Mike McGrath-Bryan is an all rounder kind of guy. He has spent eight years as a DIY gig promoter, handling a broad range of event production duties for a range of National and International acts across the genre spectrum. With years of experience in many facets of event management and promotions he deals with writing, copy-editing, photography and management for our Regional Events and Nationwide Tour Promotion.
He has a keen eye for words being a music and culture journalist too, currently writing for the Evening Echo and Totally Cork locally. He also keeps a daily column on Irish independent music for news blog Broadsheet.ie and a weekly Leeside gig guide for Nialler9, he also presents and produces for Cork online radio service Room101.
Mike is a former writer for Alternative Ulster, The Thin Air, and RTÉ TwoTube among others, as well as a former bass/effects twiddler for Cork drone/sound-art collective MERSK. He gets it, he has the drive and understanding for the Indie band and is passionately driven to cross promote up and coming Homegrown bands along side our International clients.  He probably thinks Cork should really be the capital of Ireland but we won't hold that against him. 
Hobbies: Mike likes to collect Records, he's an old school kind of guy in that regard. He enjoys literary appreciation, study & creation. You might also find him playing the odd Video game. He has a passion for current affairs, politics & social justice. He supports animal welfare & vegetarianism. He is also a bit of a ninja due to his love of mixed martial arts, sports-entertainment & fitness.
If Mike was stuck on a desert Island his must have items would be…Therapy?s "Suicide Pact-You First" and something to play it on.
Page: 1 2