Katie & The Carnival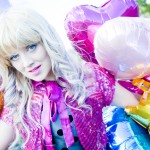 New single 'Dinosaurs' release date is 18th June.
Katie and the Carnival is the musical project of musician and actress Katie Richardson and her band. Known for their energetic and engaging live performances, their music is soulful and harmony-driven with influences from folk, pop, indie and torch song.
Following a number of sell-out special events last Summer the band have made several TV (BBC NI's Out Of The Blue and Come Dine With Me), radio and festival appearances. 
Katie has also worked with fellow luminaries such as: Duke Special, The Inishowen Gospel Choir, The Salt Flats, The Jane Bradfords and many more.
Her voice is currently featured in the new Dale Farm ice cream advert singing her own arrangement of 'Bring me Sunshine' by Arthur Kent. 
New single 'Dinosaurs', is out June 18th, was recorded in Start Together Studio's, Belfast (General Fiasco, Duke Special, Sharon Corr). 
"A band on top of their game" BBC ATL
"Tammy Wynette meets Tarintino" Hotpress
"She (Katie) transcends the stereotype of the quirky female vocalist, thanks to remarkable stage presence, a soulful voice and joyous wit." Culture NI
Gig dates:
24th May 2012 – Ulster Hall Sofa Sessions, Belfast, Northern Ire
21st July- Glasgowbury –Northern Ire
4th August – Forefy – Co. Fermanagh.
17th – 19th August Sunflowerfest – Northern Ire
Links: http://www.facebook.com/katieandthecarnivalband
NELL BRYDEN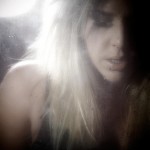 ANNOUNCES NEW DOUBLE A SINGLE
'BUILDINGS AND TREETOPS' & 'IF I FORGET' (Fri May 25th in ireland)
Taken from the brand new album: 'SHAKE THE TREE' (Fri June 15th)
"Nell's extraordinary voice will draw you in and make you an instant fan" –C. Hawkins BBC6
'WOW'- Not only do I love listening to Nell's music but I love watching Nell perform'.- Pat Kenny RTE Radio 1
"Nell Bryden is WOW" - Ian Dempsey- TODAY FM
May 25th sees the return of Brooklyn beauty Nell Bryden and the release of her new double A single 'Buildings And Treetops'/'If I Forget' taken from her eagerly awaited second album 'Shake The Tree' through a new deal with ADA/Warner Music.
If I Forget is reminiscent of her Irish hit Second Time Around, with its alluring vocal sassiness (which has become somewhat of a trademark for the New York songstress), it's catchy chorus and driving rhythmic groove which draws the listener in immediately. Buildings And Treetops is an upbeat and powerful track penned with Nell's hometown New York in mind. Combining her modern rootsy and acoustic sound, with chocolate box piano keys behind her trademark Gibson guitar, the track features an uplifting and soaring chorus showcasing Nell's powerful signature vocals at their best.
Nell is currently supporting the legendary Chris Rea on his UK tour, and also has gained the support slot for the forthcoming Duane Eddy tour! Following the release of her debut album 'What Does It Take', Nell received National acclaim in Ireland and appeared on Hit TV Show The Late Late Show, not to mention becoming a regular feature on Today FM & Rte Radio1 (+ many other radio stations around the country) for her successful track Second Time Around. Overseas the album remarkably saw six tracks make it on to the Uk's BBC Radio 2 Playlist!
Constantly going from strength to strength, Nell has performed as special guest on tour with the likes of KT Tunstall, The Counting Crows and with well-known Irish acts-Damien Dempsey, Cathy Davey, MUNDY, Mick Flannery, DUKE SPECIAL & Declan O'Rourke, along with being invited to perform for ESQUIRE MAGAZINE alongside The STEREOPHONICS & STARSAILOR. Nell later secured slots at many high profile events such as BBC Proms In The Park, Guilfest, BBC Maida Vale celebrations and Camp Bestival.
The American songbird has the urban lifestyle in her blood, the country/folk spirit of Americana in her soul, and the great American songbook in her sights.
Links: www.nellbryden.com / www.facebook.com/nellbrydenmusic
Katie and the Carnival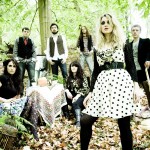 Katie and the Carnival are an energetic and engaging group based in Belfast.  Fronted by Katie Richardson, who transcends the stereotype of the quirky female vocalist, with her remarkable stage presence, soulful voice and joyous wit. The bands music is soulful and harmoniously driven with influences from folk, pop, jazz, rock and a little bit of dark cabaret! (Katie creates the kind of smokey jazz that Norah Jones might make if you snuck a load of vodka in her diet coke!).
There is a heavy emphasis from the band of the importance on putting on a show and giving the audience an experience for the eyes as well as their ears. Their live shows have been described as electric and exciting. The strong word of mouth endorsements of such have been echoing the Belfast streets meandering its way throughout Ireland. Proving that there is every reason to get excited about this band.
Katie has worked with many other artists in Ireland such as Duke Special, Foy Vance and The Salt Flats.
Katie and the Carnival recently recorded and arranged the track 'Bring me Sunshine' for a Dale Farm advert, which began its TV run in the Summer of 2011. Link to the TV ad on YouTube can be found here: http://www.youtube.com/watch?v=YkxvwQ3C9kw
The band release Single 'Fancy Face' on 1st November and they plan to release their debut album in the New Year. (Official date TBA)
Links: http://www.facebook.com/katieandthecarnivalband
CYNDI LAUPER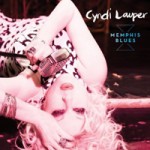 MEMPHIS BLUES.
CYNDI LAUPER: MEMPHIS BLUES.
ALBUM: OUT OCT 1ST.
13 weeks at No.1 for "Memphis Blues" on the Billboard Blues Album Chart!
Cyndi Lauper Memphis Blues: A collection of blues cover songs, recorded this March at Electraphonic Studios in Memphis, Tennessee, features appearances by such great artists as B.B. King, Jonny Lang, Allen Toussaint, Ann Peebles and Charlie Musselwhite."This is the album I've wanted to make for years," said Lauper. "All of these beautiful songs, and all of the great players on the album, were carefully chosen because I've admired them my entire life. And I knew from the moment Alan Toussaint hit the keys in 'Shattered Dreams' that we were creating something really special."The feel of Memphis Blues is gritty and full of life. It bristles with the kind of energy that earmarked the hit singles invented on the fly at Stax Records, the historic and spiritual prototype for Electraphonic, where musicians of multiple generations work side-by-side creating soul-driven anthems for the brokenhearted, the unrequited, and the overlooked.
Lauper, who traveled from New York to Memphis to set up camp at Electraphonic Recording Studio, assembled a team of crackerjack session players to cut the way she knew this record had to be done: live, analog, with Cyndi herself calling out arrangements on the studio floor.Produced by Scott Bomar and mixed by longtime collaborator William Wittman, Memphis Blues features appearances by a veritable dream team of blues and soul greats, including harmonica master Charlie Musselwhite, vocalist Ann "I Can't Stand the Rain" Peebles, brilliant Crescent City organist Allen Toussaint, and hotshot guitar heroes Jonny Lang and legend B.B. King.
Memphis Blues session players include Stax veterans Lester Snell and Skip Pitts, and Hi Rhythm Section alums Leroy Hodges and Howard Grimes, studio careerists who cut their teeth recording with the likes of Isaac Hayes and Al Green. Along with the punctuating blasts provided by trumpeter Marc Franklin, baritone saxophonist Kirk Smother, and tenor saxman Derrick Williams, they provided a steadfast foundation for Lauper's impeccable vocals.
TRACKLISTING

1. I'm Just Your Fool (feat. Charlie Musselwhite)
2. Shattered Dreams (feat. Allen Toussaint)
3. Early in the Morning (feat. Allen Toussaint & B.B. King)
4. Romance in the Dark
5. How Blue Can You Get (feat. Jonny Lang)
6. Down Don't Bother Me (feat. Charlie Musselwhite)
7. Don't Cry No More
8. Rollin and Tumblin' (feat. Kenny Brown and Ann Peebles)
9. Down So Low
10. Mother Earth (feat. Allen Toussaint)
11. Cross Roads (feat. Jonny Lang)
12. Wild Women Don't Get the Blues
EDITH PIAF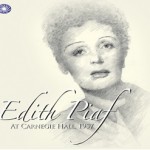 EDITH PIAF:AT CARNEGIE HALL 1957
RELEASE DATE: SEPT 10TH (FUTURE NOISE)
For the First time on CD, this release includes extensive biographical notes and track-by-track commentary by Spencer Leigh, acclaimed BBC radio presenter and journalist. Unusually for concert recordings, it features Piaf speaking and singing in English on occasion.
There is a memorable photograph of Edith Piaf performing at Carnegie Hall in January 1957. She is a tiny figure, not five foot tall and perhaps seven stone, wearing a simple, dark dress on a vast stage and we can see hundreds of people intently watching her. Her records were great, still are, but it was on stage that she truly revealed her compelling personality. Piaf's concert at the Manhattan venue was a triumph on a par with her famed concerts at the Paris Olympia. She was working with her regular conductor, Robert Chauvigny, and Piaf could choose from over 100 of his arrangements for orchestra and choir.
Sometimes intentionally, sometimes accidentally, her songs often reflected the tragedies in her life and Piaf poured her feelings into them. No other performer, not even Billie Holiday, Judy Garland or Shirley Bassey, has performed with such intensity. You can appreciate the feelings in her songs even if you don't know the language, but for this concert Piaf speaks and sings in English on occasion, making this album (first released in 1977) one that is particularly cherished by her many fans worldwide. Now, for the first time, the entire album can be purchased on CD
CD1
1            C'est pour ça
2            Je t'ai dans la peau
3            Les amants d'un jour (Lovers for a day)
4            Les grognards
5            C'est a Hambourg
6            Miséricorde (Heaven have mercy)
7            La goualante du pauvre Jean
8            Padam…Padam
9            Les feuilles mortes (Autumn leaves)
10            Mariage
CD2
1            Un jeune homme chantait (The highway)
2            La fête continue
3            Heureuse
4            Le petit homme (One little man)
5            L'homme à la moto
6            Je n'en connais pas la fin (A merry go round)
7            Télégramme
8            L'accordeoniste
9             Hymne a l'amour (If you love me, really love me)
10             Bravo pour le clown
11            La vie en rose
12            Monsieur Saint Pierre
Links: www.futurenoisemusic.com/