Underworld 
Release "A Collection" and "1992-2012 Anthology" : Irish Rel date Fri 20th January
20 years, two compilations; all the hits and a handful of rarities.
Underworld begins a hectic 2012 by announcing the release of two career spanning compilation albums in January.
Firstly, 'A Collection' is a single disc set which features edited highlights of the band's 20-year career. 'A Collection' features radio versions of many of the band's best known tracks alongside recent collaborations with High Contrast & Tiesto ('The First Note is Silent'), Mark Knight & D. Ramirez ('Downpipe') and Brian Eno ('Beebop Hurry').
The second compilation – the three-disc '1992-2012 Anthology' – radically updates the band's previous singles compilation by complimenting 16 full-length Underworld classics with nine rare/previously unreleased tracks. From pre-'Dubnobasswithmyheadman' outtakes through to newly mixed live recordings, 1992-2012 Anthology's third disc is an essential purchase for any Underworld fan.
Both compilations are available now from (among other places) the band's website - underworldlive.com - as digital downloads with physical CD versions will available from 20th January. CD copies pre-ordered from underworldlive.com will instantly receive an MP3 download of the album for no extra cost. Pre–ordered CDs will ship w/c 16th January to arrive on or very shortly after the official street date of 2oth January.
In December 2011 Underworld were announced as Music Directors for the Opening Ceremony of the London 1012 Olympic Games. The appointment sees Rick and Karl reunited with the ceremony's Artistic Director Danny Boyle as they continue their 15-year relationship. The band have previously worked with Boyle on the films Trainspotting, A Life Less Ordinary, The Beach and Sunshine and, most recently, the hugely acclaimed British theatrical production of Frankenstein.
 www.underworldlive.com / www.cookingvinyl.com
THE PRODIGY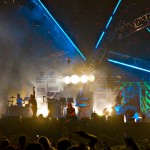 World's On Fire – CD/DVD & CD/Blu-Ray
Recorded live at their own Warrior's Dance Festival, Milton Keynes Bowl, July 2010
" Nothing can prepare you for the sheer ferocity of The Prodigy" *****Kerrang!
"If there's only one band you see this decade, look no further" Q
"Vulgar, garish and perfectly old skool…as incendiary as ever…,The Prodigy are the kings of this shit " NME
"A warrior's dance of epic proportions…Not a single stationary body in the audience" 9/10 Rock Sound
The Prodigy's first ever live album and film 'World's On Fire' will now become available on CD/DVD and CD/BLU-RAY from 20th May through Take Me To the Hospital / Cooking Vinyl Ltd.
Portraying their biggest show to date from their sold out Warrior's Dance Festival at the Milton Keynes Bowl, it includes their biggest tunes – Omen, Firestarter, Breathe, Warrior's Dance, Smack My Bitch Up and more – and will now be available in full to watch in the comfort of your own place.  Just make sure you turn it up & annoy the neighbours!
"A lot of thought went into the place where we could throw the best party, we never wanted the typical stadium venue so Milton Keynes Bowl was perfect for our first ever UK Warrior's Dance Festival coz it felt like a mad party in a field.  The night was massive for us.  It was important to us to bring a proper festival day and night for the people to remember and bring the same intense atmosphere like when we play Brixton Academy…. and it was.  Standing on that stage was a truly triumphant feeling for us as the whole place kicked off, we looked out and we were fukin proud……We never intended to do a live DVD, but when we saw the footage we knew it had to be done…and born out of that we realised we had a great live album too!"  Liam, Keef & Maxim….(The Prodigy)
With the audio for the DVD & Blu Ray versions having been engineered by Liam Howlett himself in 5.1 surround sound it's a chance to re-live that feeling of standing in the crowd all over again or witnessing their blistering performance for the first time.
The release will be a chance for fans to see brand new and re-worked footage of the band including films taken on the road during their 'Invaders Must Die' world tour – see the boys in Brazil, Japan, America and of course select performances taken from their explosive tours here in the UK and Europe.
There's also some exclusive gallery photos to explore and some hidden extras which you'll have to navigate an interactive menu to find! Directed by award winning director Paul Dugdale, the MKB footage was devised with heavy input and direction from the band throughout.
Links: www.theprodigy.com / www.cookingvinyl.com
DIOYY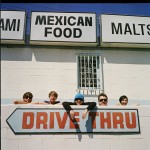 "DON'T SAY WE DIDN'T WARN YOU" March 11TH(IN IRELAND & 14th IN UK) on Cooking Vinyl
Does it Offend You Yeah  are set to release their second full-length studio album, 'Don't Say We Didn't Warn You' on March 11th on Cooking Vinyl.
'Don't Say We Didn't Warn You', is an album that surprises and astounds at every turn; unpredictability is king, no barrier is left un-demolished. It's a spectacular rebirth, a breaking out of boxes.
It is the follow up to 2008's 'You Have Know Idea What You're Getting Yourself Into', an album that was too spikey-around-the-edges to fit into any genre and saw the band confounding expectations at every turn. But  DIOY,Y? blew up big, making a huge impact on the gig scene with their incendiary live performances, remixing everyone from Muse to Bloc Party to The White Stripes, and damn near breaking America, going on missions of electro conversion across North America in support of The Prodigy, Nine Inch Nails and Linkin Park and their own sold-out headline tour.
Their new album, 'Don't Say We Didn't Warn You' is compiled from the "million" songs that DIOY,Y? self-recorded – over six months in a tiny studio in Reading towards the end of 2009 and in piecemeal bedroom'n'kitchen sessions throughout 2010.
"Don't Say We Didn't Warn You" opens with the  resurrection march of 'We Are The Dead', a zombie barn-dance interspersed with 60s-psych acoustic interludes and is currently available as free download online. "It's about reincarnation and regeneration," grins frontman, James Rushent "Coming back from the dead that's why we picked it as our first free giveaway, to say we're still alive."
The anarcho-Prodigy 'The Wrestler (This Is The Dance)' includes a sample from 1999 wrestling movie Beyond The Mat which summed up the band's feelings: "we're too extreme, we're too wild, we're too out of control… fuck you you're wrong! Fuck you, we're right!". The fantastic electro-pop 'Pull Out My Insides' ("Stay with me while I make mistakes") is an attack on the soulful-yet-soulless mainstream pap, riddled with fantasies about their mass cultural cull at the hands of the righteous underground. A cull forseen in 'The Monkeys Are Coming', a real rave-rock shit-flinger that resets the spring-loaded spike trap at the heart of DIOY,Y? and asserts their position as the prickliest tech-rock punks on the planet.
"The monkeys represent art in its true form, just fucking mess," says James. "I think it's about time we have a fucking mess. We were a year and a half ago in the studio, going 'fuck them, fuck her, fuck him'. We want to perform music that, if we heard it, we'd go 'oh, who's that?' rather than 'here's another fucking 60s soul artist'. It was stressful, panicky and hard work. It's the nature of how we work, it's like trying to put a jigsaw together where you don't know what the picture is at the end. I feel like we've come across the finish line with our pants hanging halfway down our legs."
But what a triumphant finish. Fusing their original concoction of Justice, Metronomy and Prodigy with a new sense of stylistic adventure and synthetic violence all their own, 'Don't Say We Didn't Warn You' promises to be one of 2011's most visceral and inventive – yet surprisingly accessible – assaults on the senses. When it's not delving into Soviet squelches, Billy Holiday-esque vocal samples and grime raps courtesy of educated battler Trip on 'Wondering', it's recreating the Blade Runner soundtrack on 'The Knife',  or coming on like a meta-Muse on 'John Hurt' – so named because the legendary actor was due to feature on the track, until the band's ex-manager missed his 'window'.
Acoustic guitar segments drop unexpectedly out of hardcore techno thrashes. Zulu chants weave around cartoon monster glam stomps. 'Don't Say We Didn't Warn You' surprises and astounds at every turn; unpredictability is king, no barrier is left un-demolished. It's a spectacular rebirth, a breaking out of boxes, as evinced by the two tracks which bookend it. At the far end you have the devastating 'Broken Arms', a virtually synth-free suicide ballad redolent of Radiohead's 'Motion Picture Soundtrack', the first song written for the album in an attempt to do "something completely different".
And how. Finally free of their major label shackles , DIOY,Y? couldn't feel more unleashed, in control, reanimated. They're one of the few bands around today who feel capable of anything, restrained by no-one and thrilled to be beating at the boundaries of their own possibilities.
"This is our break-out album," says Dan. "It has got balls-out angry stuff and serene melancholic, quite depressing stuff as well. We'd rather show all our hands like that rather than write a whole album that sounds the same."
A good plan, since this is hair-raising stuff: a laser blast from the underground, future rock rebels running riot. Don't say they didn't warn you…
DON'T SAY WE DIDN'T WARN YOU
Track listing
we are the dead
john hurt
pull out my insides
yeah
monkeys
wrong time wrong planet
wrestler
wondering
the knife
broken arms
DIOYY are:
James Rushent
Dan Coop
Rob Bloomfield
Matty Derham
Chloe Duveaux
Links: www.doesitoffendyou.com / www.cookingvinyl.com
Asian Dub Foundation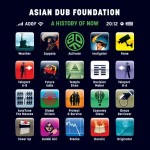 Asian Dub Foundation release their new studio album "A History Of Now" (COOKCD 532) on February 4th 2011, plus announce intimate London show and free download available now! The band are giving away the title track "The History Of Now" from the album as a free download now on their site, www.asiandubfoundation.com
Combining dancehall, dub beats, ragga and punk rock influences with hard hitting lyrics, the multicultural Asian Dub Foundation are back for 2011. Their new studio album again pushes the boundaries and asks questions while being different musically from previous releases. With the sound more expanded, it proves to be the bands most cohesive uplifting masterpiece of their career.
Released February 4th on Cooking Vinyl, the album title is a comment of the present state of humanity on the planet and the world we live in "there is no history anymore everything is in complete flux!"
ADF is proud of what they have achieved, Steve Chandra Savale comments "in the 16 years of the band we have lived through a lot of change, how we make music, how we relate to people, we're completely transformed and this is a good way to mark that artistically."
ADF want to get out and play the new songs, they haven't done extensive touring for 2 years and "its part of our life blood".  The band start this process with a special show at the London's ULU on February 3rd. Tickets availbale now at http://www.kililive.com/2010/12/asian-dub-foundation/ £14.00 plus booking fee.
"A History of Now" ADF's 9th studio album was recorded at Brendan Lynch's "Lynchmob Studio" (Primal Scream/Paul Weller producer). While the album was engineered by  Max Hayes and produced by the band's Sanjay Tailor and Steve Chandra Savale. The video for the title track has been produced by Jim Cauty.
The lyrics encapsulate the whole vibe of the album but reminding you there is more to life than modern living " You can't download the sun, You can't download the sea and You'll never download me" .
The 11 songs on the album mark a distinct change and this comes from having live drums, using more strings/flutes which makes for a more expanded sound. A "HIstory of Now" is not focused on their original mc style, "this sound dates very quickly" explains Aktar Ahmed, this in turn meant he discovered he possessed a superb low voice and this shines through. Other vocalist Al Rumjen's voice was based on Jamacian mcing but his style sound has also moved on.
This all comes from them "wanting to play to our strengths, to not try and chase other things".  ADF are good at making hybrid music which has "elements of dub/club sensability but also a little bit of guitar based song writing."  Apart from their traditional Indian and Asian influences there are also a lot of none 1st world influences on here. "It shows on the album that everyones different, we get together, create something that becomes right, we all come from different backgrounds/music backgrounds.  We have an ability to gel as one and over the years this becomes more diverse. Individuals become more individual, through travelling – meeting new people/hearing new music, opens your mind and you start accepting a lot more"
A History of Now's artwork is an intergral part of this with the sleeve representing a super Ultra Phone. The phone is not just for communicating or for music but the apps alter reality and the fabric of the world. The apps include "Autotune The Masses" - getting the masses to sing your song, "Gulabi Girl" – a movement in india of women fighting for women who have been mistreated by men and "Bonus Retriever" –  an giant hand motioned by the app to dig in and retrieve.
Asian Dub Foundation are Steve Chandra Savale (guitar, programming, backing Vox), Sanjay Gulabbhai Taylor (D.J.,programming, fx, lead vox track 6), Aktar Ahmed (lead vox, tracks 3,4,5,6,9,11), Al Rumjen (lead vox, tracks 1,2,3,4,5,9,11), Marty Savale (bass, backing vox, programming), Prithpal Rajput (tabla, dhol, percussion).
Links: www.asiandubfoundation.com / www.cookingvinyl.com
UNDERWORLD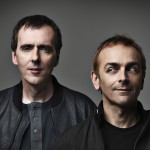 UNDERWORLD New single 'Bird 1' announced for November 19th
Remixers include Lone, sbtrkt, Mark Broom and Pete Tong
Sixth studio album 'Barking' out now + IRISH SHOW: NOV 27TH RDS
With their sixth studio album 'Barking' – out now to widespread critical acclaim – Underworld have once again performed a feat of creative regeneration; the duo have announced their next single 'Bird 1' will be released digitally on November 19th. The shuddering machine pulses of
'Bird 1' – the album's opener – has been reworked by several DJs and producers:
1. Bird 1 (album version), 2. Bird 1 (Mark Broom remix), 3. Bird 1 (Lone remix), 4. Bird 1 (Pete Tong remix), 5. Bird 1 (Clouds remix), 6. Bird 1 (sbtrkt remix), 7. Bird 1 (radio edit)
'Barking' is Underworld's first album in three years, and their first to be constructed with a brilliant cast of co-conspirators. All the tracks were written by the band in their Essex studio before being given to handpicked studio heads from across the whole spectrum of dance music to add some of their style and creativity to the band's raw material. The result is a pimped-up Underworld record and their finest collection of songs in over a decade.
Quotes:
"Still brilliant, still essential, still peerless" - The Times *****
"The crowd go as bananas for the new stuff as the old" - The Guardian ****
"Barking is the sound of veterans re-energised" – Uncut ****
"Skipping beats and cavernous bass" – MOJO ****
"Epic" – Q ***
"Truly captivating" – Word
"Up with their hypnotically melodic best" – The Sun ****
"Ranks with their very best material to date" – Clash 8/10
"Lustrous" – The Daily Mirror ****
"Ebullient" – Metro
"Vital" – The Independent
"Dog-gone brilliant" – News of the World ****
"Collaborators have injected fresh energy but they're still unmistakably Underworld" – The Observer
"Dizzyingly Divine" – Time Out
Links: www.underworld.com / www.cookingvinyl.com
Groove Armada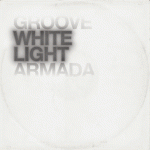 Groove Armada to release 'White Light' album / 'Black Light' re-workings released 12th November (Available exclusively in HMV from now until Nov 12th)
Groove Armada are set to release 'White Light' on NOV 12TH. The album comprises live studio re-workings of tracks from their acclaimed album 'Black Light' which was released at the beginning of the year.
The nine track release includes all new track '1980' and the much sought after History (Love Remix) and follows the recent announcement that Groove Armada's forthcoming UK and Australia tours are set to be their last ever live shows as a full band.
Tom Findlay of Groove Armada commented "It began as Black Light. Then it was recut, reworked and enlarged for a festival season that began at Glastonbury, crossed Europe, took in Japan, and ended in Moscow. Now these king size live versions have been taken back to the studio and re-recorded. Black Light has become White Light."
For its first month of release the CD of 'White Light' will be exclusively available from HMV stores and online and iTunes in digital format.
Full track listing:
1. Warsaw
2. Time & Space
3. History
4. Not Forgotten
5. I Won't Kneel
6. Look Me In The Eye Sister
7. Paper Romance
8. 1980
9. History (Love Mix)
www.groovearmada.com   / www.cookingvinyl.com
YEAR ZERO EXCLUSIVE RELEASE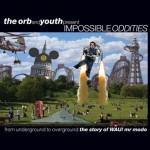 Various Artists: The Orb & Youth present: IMPOSSIBLE ODDITIES Mr Modo // Out Oct 22nd
W.A.U!. Mr Modo was the product of likeminded music freaks and lifelong friends Youth and Dr Alex Paterson setting out to celebrate and play their part in the acid house revolution sweeping the UK in the late 80s. In the process, they became two of the most well-known and lastingly influential names to emerge from the whole movement, while the label epitomises the innocence and questing spirit of the era. When Youth played bass in apocalyptic post-punk band Killing Joke, Alex was a roadie, prone to leaping onstage and singing Stooges songs in the encores. When Youth left the Joke, the pair found their musical outlooks swiveled by tapes of New York's dance music radio stations and their jaw-dropping mastermixes.
'We wanted to form a label after spending 1986-87 listening to the likes of Tony Humphries' adds Alex.  The first Orb single, recorded at KLF's Transcentral squat HQ, was a homage to KISS FM., called The Kiss EP. Meanwhile Alex and Youth started demoing a song they called 'Little Fluffy Clouds' [a never-before heard version which opens this compilation].
After hooking up with former Killing Joke road manager Adam Morris [aka Mr Modo], the label became known as W.A.U!. Mr Modo. The music started flowing freely as names including STP Twentythree [Alex and Jimmy], Insync, Paradise X and Lyndsey Holloday recorded there. 'We set about sampling our record collections and creating new music with a new vocabulary,' recalls Youth. 'This extended further with the Orb and KLF, where Alex's genius was soon realised by his amazing sound collage abilities, where we practically got rid of all musicians and created entire tracks from collaging other records.'
The two CDs also feature the cream of the early W.A.U. releases; a stellar collection of half-forgotten names from the acid house archives [several featuring Alex and Youth], including STP Twentythree, Eternity, Discotec 2000, Delkom, Johnson Dean, U.N.C.L.E., Paradise X, Sun Electric, Indica All Stars, Mystic Knights, Insync, Sound Iration and Zoe, with 'Sunshine On A Rainy Day', one of the label's biggest hits.
The recordings here can now be considered the acid house equivalent of Alan Lomax's field blues recordings or compilations of DIY bedroom punk; snapshots of seminal moments in musical history. In many ways, acid house was like punk rock all over again; like that movement, Youth and Alex were again in the thick of it but soon out front, leaders of the field within a very short time. This is where it all started.
To accompany this celebration of the label, this must-have, collectors package includes a fold out scrap book poster of press cuttings from the time unearthed from Paterson's personal archive as well as iconic cover art from Jimmy Cauty.
TRACK LISTING:
Disc One
The Orb Little Fluffy Clouds [Demo version] / Eternity Ashram House (Extended Mix) / The Orb Tripping On Sunshine (Live Mix) / Discotec 2000 Feel This / STP Twentythree Let Jimi Take Over (Ultramix 1) /Johnson Dean feat. Lynda Law Somebody Somewhere (Black Country Mix) / UNCLE 22 LOVE/Paradise X / 2 Much (Out Of This World Mix) / Delkom Superjack (Orbital Infusion 2000) / Sun Electric O'Locco / (Orbital Therapy Part 1) / Indica All Stars Open Our Eyes (Original) / Indica All Stars Open Our Eyes (New Style Version) / Mystic Knights Filo Funk
Disc Two
Zoe Sunshine On A Rainy Day (Youth Remix) / Blowfly Work Your Body (Work Your Body Mix) / Eternity Blackcurrant / Insync Reflection / Readymade See Saw (Victor) / STP Twentythree Some Lovin' (Just A Beat) (Massive Mix) / UNCLE 22 Sulpher Salsa / Lyndsey Holloday Feel The Love/ Insync Dark Side Of The Moon (Original Mix) / Mystic Knights The Wrath Of Khan (Long Play Mix) / UNCLE 22 Is It House? / Sound Iration Seventh Seal
Disc Three: Orb Mix
The Man From… U.N.C.L.E 22 / O'Locco ( Orbital Theory Mix ) Sun Electric  / Goldfinger Stp Twentythree / 2 Much (Paradise X Remix ) Paradise X / Do You Wanna Georgette De La Rosa  / Ambient State Ready Made  / Dark Side Of The Moon Insync /Filo Mystic Knights  / Hotel California Remix Jam On Your Mother  / Peace In The Middle East / Apollo Xi I'm Gonna Love Ya  (Pablo Mix) Stp 23 / Superjack Remix Delkon Superjack
UNDERWORLD;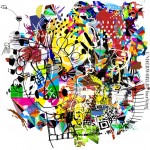 Underworld announce brand new album 'Barking' set for release September 10th 2010
Barking is the title of Underworld's first album in three years, and their first to be constructed with a brilliant cast of co-conspirators. All the tracks were written by the band in their Essex studio before being given to handpicked studio heads from across the whole spectrum of dance music to add some of their style and creativity to the band's raw material. The result is a pimped-up Underworld record and their finest collection of songs in over a decade.
From the first undulating pulses of submariner bass, the first vocals – soft like a whisper in the ear – and the first fizz of hi-hats that force along the pace, the sound is unmistakably Underworld. Electronics wrapped effortlessly around songs; streams of consciousness lyrics that form indelible images; a perfectly balanced mix of melody and rhythm. Underworld's sixth studio album is a thundering return to form, although it's fair to say that the band responsible have never really been below par.
The tracks on Barking are:
Bird 1 (Co-Produced by Dubfire)
Always Loved A Film (Co-Produced by Mark Knight & D. Ramirez)
Scribble (Co-Produced by High Contrast)
Hamburg Hotel (Co-Produced by Appleblim & Al Tourettes)
Grace (Co-Produced by Dubfire)
Between Stars (Co-Produced by Mark Knight & D. Ramirez)
Diamond Jigsaw (Co-Produced by Paul van Dyk)
Moon In Water (Co-Produced by High Contrast)
Louisiana
Underworld are Rick Smith and Karl Hyde. They have been working together in music for thirty years since meeting in Cardiff University in the late '70s. Following time working in various bands with luminaries like Conny Plank, Iggy Pop and Debbie Harry, Smith and Hyde (with help from DJ Darren Emerson) began experimenting with making club music in the early '90s, first as Lemon Interupt then reactivating one of their old band names – Underworld – releasing their first single proper, Mmm… Skyscraper, I Love You, in 1993. As well as becoming the first band from the nascent 'dance' scene to grace the cover of a weekly music paper, they scored massive critical hits with each of their album releases (Dubnobasswithmyheadman, Second Toughest In The Infants, Beaucoup Fish, One Hundred Days Off and Oblivion With Bells).
In 2005, Underworld released the Riverrun series, a trio of downloadable mixes of new material and works-in-progress, making them one of the first acts of their scale to attempt to directly sell their own records. The band continue to release alternate versions and curios through underworldlive.com
Underworld's continuing relationship with director Danny Boyle has seen their music used in many of his movies. In 1996 a former B-side track, Born Slippy (Nuxx), soundtracked an entire summer, selling close to a million copies when released as a single. They recently scored Boyle's sci-fi movie Sunshine.
In the early '90s Smith and Hyde helped co-found the design company tomato. Karl has recently worked extensively with Brian Eno on the collaborative Pure Scenius project, playing largely improvised gigs at Sydney's Opera House and at the Brighton Festival.
Underworld remain one of the most innovative and dynamic live bands on the planet – after a series of  Australian dates in June, they will be touring the album extensively towards the end of the year.
www.cookingvinyl.com / www.underworldlive.com
UNKLE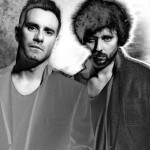 UNKLE ANNOUNCES "THE ANSWER" EP &
Electric Picnic PERFORMANCE
Available 10 Sept on Surrender All Featuring Tracks With Lupe Fiasco & Tim Goldsworthy
UNVEILS TWO SHORT FILMS FOR TITLE TRACK
Starring Ray Winstone & Directed By John Hillcoat; Watch Them @ UNKLE.com
 
UNKLE returns 10 September with the six song 'The Answer' EP which includes two new songs, a collaboration with hip-hop prodigy Lupe Fiasco and a remix by original UNKLE member Tim Goldsworthy. Pre-order 'The Answer' EP limited edition 12" vinyl and limited edition CD now at unkle.com/shop. UNKLE Live will return Ireland to perform at The Electric Picnic on Fri Sept 3rd.
The hip-hop reworking of 'The Runaway' off UNKLE's most recent album 'Where Did The Night Fall' sees Lupe Fiasco rhyming with an untouchable, laid-back cool as splintered synths and a shuddering bass-line envelope around him.  Original UNKLE member, Tim Goldsworthy (LCD Soundsystem/DFA), morphs the subtle, desert-scorched previous single 'Follow Me Down' into a breathless, urgent 8-minute epic.  The cinematic 'Separate Half' featuresSan Francisco quartet Lumerians with vocals by Rebecca Coseboom. Pulsating and airy, 'Separate Half' takes listeners on a journey passing through kaleidoscope worlds. The quiet, dusty lament of 'Country Tune' builds to become vast and expansive in scope, anchored by fragile vocal from UNKLE collaborator Gavin Clark.
The Answer' EP served as a catalyst for inspiring a variety of high profile and creative artists to make works of art, video, fashion which will be exhibited at James Lavelle's pop-up art exhibition 'Daydreaming with…James Lavelle' at Haunch Of Venison gallery in London, 27 – 30 August.
To accompany the release of 'The Answer' EP, UNKLE unveil two music videos.  Acclaimed film director John Hillcoat, whose last major motion picture feature was the critically heralded 'The Road', directs the first of two videos for 'The Answer'.  His vision begins with Ray Winstone (The Departed, Sexy Beast, Cold Mountain) relaying a memory from years past.  It is a provocative anecdote and an intimate snapshot of an event that changed the actor's life.  Wrapped up in the all-encompassing reach of the song, a kaleidoscopic slide show then screens a series of fantastical, psychedelic images, some bleached and distorted, some drenched in hyper-visual colours, all whilst Winstone narrates.
The second video is directed by Ross Cairns and features footage from the Relentless 'Lives Of The Artists' documentaries of legendary snowboard free-riders Jeremy Jones and Xavier De Le Rue who climb and ride near vertical faces of the harsh Antarctic plus surfers Tom Lowe and Fergal Smith in Tahiti where they ride one of the world's most revered heavy waves: Teahupoo, (known locally as 'Wall of Skulls).  The highly anticipated new installment, 'Lives Of The Artists: Follow Me Down" premiering this September profiles James Lavelle with music scored by UNKLE.
In conjunction with 'Daydreaming with…James Lavelle", both videos will be screened at a special evening with James Lavelle at the Prince Charles Cinema in Leicester Square on the 31 August.
Links: http://unkle.com/