Elspeth//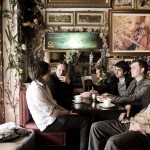 Radio Single 'The Taster' + Album 'Coax' is out from May 14th
Elspeth are a 5-piece alternative rock band from Northern Ireland made up of: Gerard Sands (vocal, guitar), Leo Sands (guitar), Jonathan Mcateer (guitar), Davy Short (Bass) and Phil Corrigan, (Drums).
Their sound combines offbeat, atmospheric, stilted rhythms that climb and fall over steely guitar thrills and gradual bass lines. Their music in heavily influenced by Pixies & Radiohead.
Elspeth have garnered support from Radio stations across the UK & Ireland including Tom Robinson & Gideon Coe on BBC 6Music, Phantom FM, Cool FM and BBC Radio 1 Introducing who featured a live session with the band earlier this year. The track 'The Taster' features on the album Coax which is released week commencing 14th May
Most recently they have played live shows supporting Sea Of Bees, Dog Is Dead and Cashier No.9. And will be announcing a list of tour dates in the coming weeks.
Band Links:
http://www.facebook.com/elspethband
https://twitter.com/#!/Elspethmusic
Tour dates to be announce soon.
PR Contact: Linda Coogan Byrne
+353 851659065
Label:No Dancing Records
OCHO: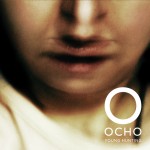 OCHO Announce details of debut album Titled: "YOUNG HUNTING"
Out: April 30th Available on iTunes
OCHO are one of Ireland's best-kept Electronic secrets. Working hard perfecting their sound for over 2 years, they are finally ready to release their ambitious and infectious debut album YOUNG HUNTING. Combining atmospheric layered trans-cultural electronic music with lush dynamics akin to the likes of Imogen Heap and Mazzy Star.
OCHO are a collaborative collective made up of Stace Gill and DOS, with various guest musicians including Eanna Hickey, Gerry O'Connor, Jill Deering, Suzanne Savage, Lisa Cuthbert and Sarah Gleeson.
Gill has supported and shared the stage with many great musicians over the last few years including James Vincent McMorrow, Declan O'Rourke, The Brad Pitt Light Orchestra, and many more, and was recently asked to perform backing vocals for The Dubliner's Patsy Watchorn's latest album. Tony Fenton has described Stace Gill as "One of those rare gems worth highlighting" when he awarded her first collaboration with his highly coveted Daily Download spot on Today FM.
Producer and writer DOS began his career with a scholarship to Paul McCartney's highly acclaimed Music college LIPA, an award given only to 1 student every year based on outstanding ability and potential.  DOS is a highly sought after producer, but has committed the majority of his time to this record.  He has worked on projects previously with Kool Keith, Guilty Simpson, DJ Tu-Ki and his previous band Exit 15. As Exit 15 DOS was chosen by David Holmes for a Sony PSP soundtrack. DOS has already been signed to labels in the UK and Sweden, but this album is most definitely his work of art.  He prides himself on attention to detail and creating new sounds unique to OCHO.  DOS is a modest genius, and OCHO's debut album will for the first time reveal this hidden talent.
DOS' collaboration with Gill has blended two unique talents into one mind-blowing sound. OCHO's debut album will command your attention and leave you craving more.
Latest news:
Fashion photographer; Agata Stoinska, was so impressed with their music that she offered to collaborate with them for their first music video. When Stoinska played OCHO for the award winning Polish Director Marcin Koszalko, he insisted on working with the band on this project.  OCHO flew to Poland in March 2012 and filmed their first music video with Marcin, Agata and a whole film crew, including some of Roman Polanski's cameramen from The Pianist.  The first screening of this masterpiece will be at OCHO's album Launch on Good Friday 6th April, in association with BLOW Magazine in D Light Studios.  Doors 7pm.
GIGS: 6th APRIL (Launch party) in D-LIGHT Studios, North Great Clarence Street  Dublin, 7pm
Links:
https://www.facebook.com/ochomusic.ie
PALEY & FRANCIS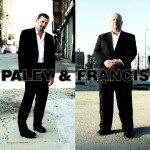 Release new album 'Paley & Francis' (COOKCD540) On September 2nd
On September 2nd Black Francis' collaboration with Reid Paley will be released as an album 'Paley & Francis' (COOKCD540)
In their own words…
"This album was recorded in two relatively short days this past September 2010 in Nashville, Tennessee. All first takes
We wrote the music for the songs in Paley's apartment in Brooklyn over three afternoons when Francis was in New York for a three day run at Joe's Pub. After which we each took half of the songs to finish off with lyrics, and Francis went off to meet what he sometimes likes to call "the old band" for another tour.
A few days later, we were recording at Jon Tiven's studio in Nashville. We each sang lead on the songs we wrote lyrics for and sang backup on the others. We worked fast. Francis had Pixies shows each evening, so we had a curfew. Paley recalls finishing the lyrics to one tune literally a minute before cutting the vocal. The two of us on guitars with legendary Muscle Shoals players David Hood on bass and Spooner Oldham on piano. Damn, those guys are good.
Hope you like it. Hope you dig the vibe."
Paley & Francis
Track listing:
Curse
On the Corner
Magic Cup
Ugly Life
Seal
The Last Song
Crescent Moon
Deconstructed
Praise
Happy Shoes
http://www.frankblack.net / http://www.reidpaley.com / www.cookingvinyl.com
BUZZCOCKS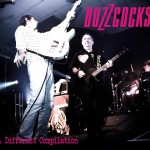 Masters of the three-minute pop song release 'A Different Compilation' COOKCD539 Released June 3rd 2011
Nirvana to Green Day, Kaiser Chiefs to Kate Nash – just a few of the artists who have acknowledged their musical debt to punk-pop pioneers, Buzzcocks. This legendary band has provided some of the catchiest and often most provocative music ever and blazed a trail for legions of artists to follow. Their catalogue of songs pervades popular culture – film, television and game soundtracks, cover versions in every style – and is still thrilling ecstatic audiences on the band's travels around the globe.
Always innovative, Buzzcocks have seized control of this peerless repertoire by taking them back into the studio. The result is A Different Compilation (COOKCD539) – an album of 24 of the band's bestloved and iconic songs – which achieves the seemingly impossible by bringing a 21st century slant to these already timeless anthems.
"The original records now sound like demos", says Pete Shelley. "These new versions, honed by years on the road, showcase the songs as we know they should be, the way we know audiences love to hear them."
Steve Diggle adds, "What were songs of sophisticated innocence are now songs of experience. 'Harmony In My Head' and 'Why She's A Girl From The Chainstore' now have a full panoramic view!"
A Different Compilation charts the high points of their career and includes 'Boredom' and 'Breakdown' from their iconic debut Spiral Scratch EP, the thrillingly lascivious first single 'Orgasm Addict' and their biggest hits, 'Love You More', 'Promises', 'What Do I Get?', the hypnotic 'Why Can't I Touch It?' and, of course, the classic 'Ever Fallen In Love (With Someone You Shouldn't've)?'. A Different Compilation captures this unique and influential group at their most powerful and proves Buzzcocks remain contemporary and as relevant as they always have been – a band with a past, present and a future.
A Different Compilation track listing:
1. Boredom
2. Fast Cars
3. I Don't Mind
4. Autonomy
5. Get On Our Own
6. What Ever Happened To?
7. When Love Turns Around You
8. Why She's A Girl From The Chainstore
9. Why Can't I Touch It?
10. Alive Tonight
11. I Don't Know What To Do With My Life
12. You Say You Don't Love Me
13. Turn Of The Screw
14. Noise Annoys
15. Breakdown
16. Promises
17. Love You More
18. What Do I Get?
19. Harmony In My Head
20. Oh Shit!
21. Ever Fallen In Love (with Someone You Shouldn't've)?
22. Orgasm Addict
23. I Believe
24. Love Is Lies
Format: CD DL / ITUNES
Tour Dates get from www.buzzcocks.com / www.cookingvinyl.com